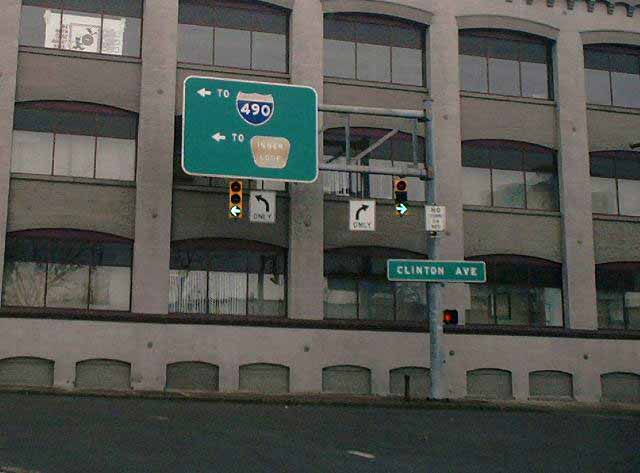 This is the east end of Byron Street at South Clinton Avenue. NY 15 northbound turns left here, ending shortly afterward at NY 31 (Woodbury Boulevard - see below). The Inner Loop and I-490 shields are both old button-copy representations. At the time of this photo, the bottom aspect on the right-hand signal had recently been converted to the yellow/green changeable LED type (wherefore the center aspect is covered), while the left-hand signal retained the separate incandescent aspects. Both signal heads have since been updated with LED faces. The building behind is that of ABVI-Goodwill of Rochester.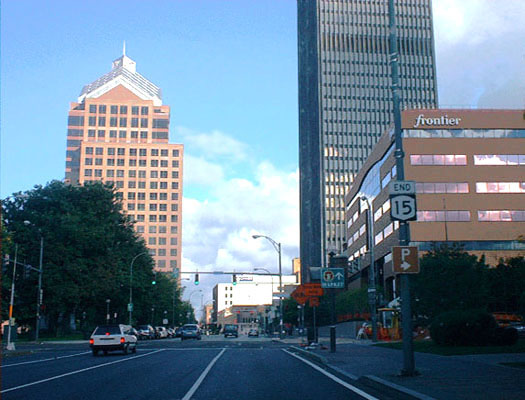 Just north of the above photo, NY 15 northbound comes to an end on South Clinton Avenue at Woodbury Boulevard. From this viewpoint, NY 31 westbound enters on Woodbury Boulevard from the right, and continues straight ahead on South Clinton Avenue. NY 31 eastbound runs directly across from left to right on Woodbury Boulevard. On the left, beyond the trees of Washington Square Park, rises the Bausch & Lomb world headquarters building. At right are the Xerox Tower, Rochester's tallest, and the local Frontier headquarters.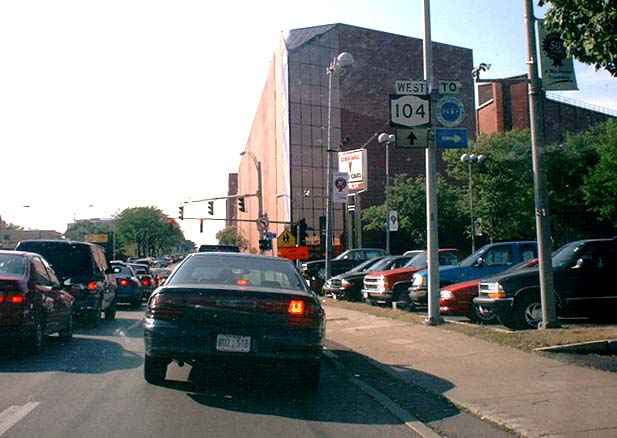 On NY 104 (West Ridge Road) westbound at Lake Avenue is this Lake Ontario State Parkway trailblazer. Most of the parkway's shields are green, but a handful of older blue ones are found in this particular area. The buildings in the background are the edge of an iceberg that is Kodak Park, a large and mysterious industrial complex. Lake Avenue south of this point is reference route 940M.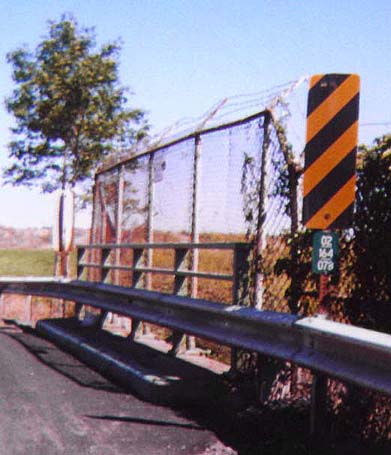 A sample Monroe County bridge marker. This one is on Beahan Road (CR 164) crossing over Little Black Creek, alongside the Greater Rochester International Airport. These are posted at bridges, culverts and overpasses maintained by Monroe County. For more information on them and their meaning, see the Monroe County Reference Markers page.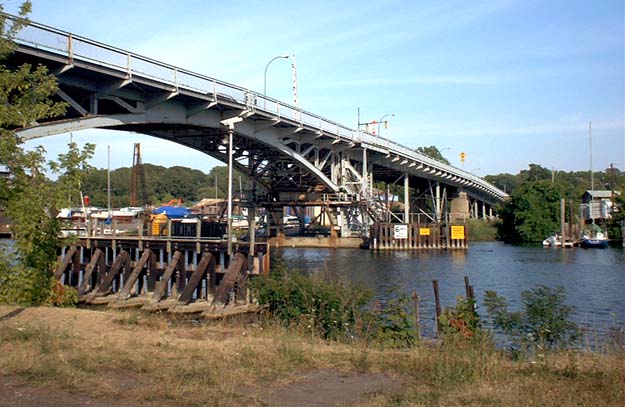 The Stutson Street Bridge (CR 255) spans the Genesee River near its mouth on Lake Ontario; it connects the communities of Charlotte and Summerville. The structure consists of a bascule-type draw span (foreground), beyond which a continuous truss section passes over part of a marina. To the left of this vantage point, another short truss span crosses over a little-used CSX railroad spur, near the site of the 2001 derailment. This bridge is near the end of its life: it is to be demolished upon completion of the new O'Rorke Bridge just to the south. An old railroad swing bridge to the north, also slated for demolition, incites far greater ardor among historical preservationists than the span pictured above.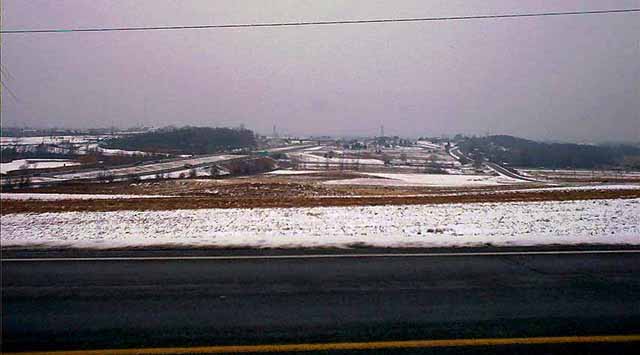 On Erie Station Road (CR 71) in Henrietta is this view. It shows Interstate 390 (left), the New York State Thruway (I-90, crosswise in the middle distance), and Middle Road (CR 88, right). Parts of Thruway Interchange 46 with Interstate 390 can also be made out, and on clearer days the Rochester skyline is visible. The towers in the background are those of high-tension power lines.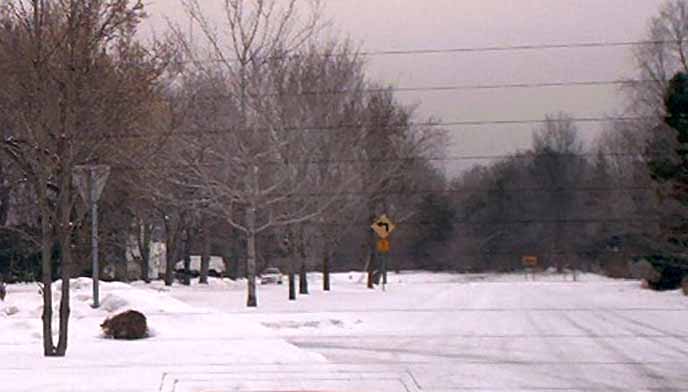 Warrenton Place, a short, dead-end street in the Town of Irondequoit, is unusual for having once been an exit ramp. The interchange between NY 590 (formerly NY 47) and Empire Boulevard (NY 404) was originally a full cloverleaf. This street, which had several houses then as now, was part of the northeast quadrant of ramps. The interchange was reconstructed in the early 1980's into a diamond configuration, with the northeast quadrant ramp "flipped" into a loop in the southeast quadrant, leaving a much quieter residential street. Today, the street still has two carriageways, both two-way, with only the eastern roadway intersecting Empire Boulevard opposite the NY 590 ramps. The advisory speed on the curve sign shown here is 5 mph.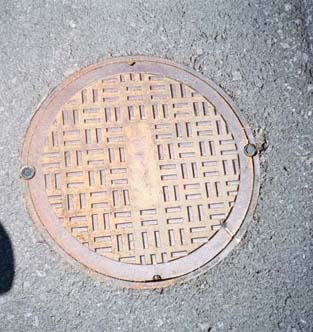 This photo appears entirely unremarkable, but there are four towns and three counties in this picture. Beneath this cover is a stone marker, unearthed in a recent road maintenance project. It marks the common junction of (clockwise from top left) the Town of Perinton in Monroe County, the town of Macedon in Wayne County, and the Towns of Farmington and Victor in Ontario County. A historical marker erected nearby, along with a roadside granite monument, hint at the existence of this unusual feature.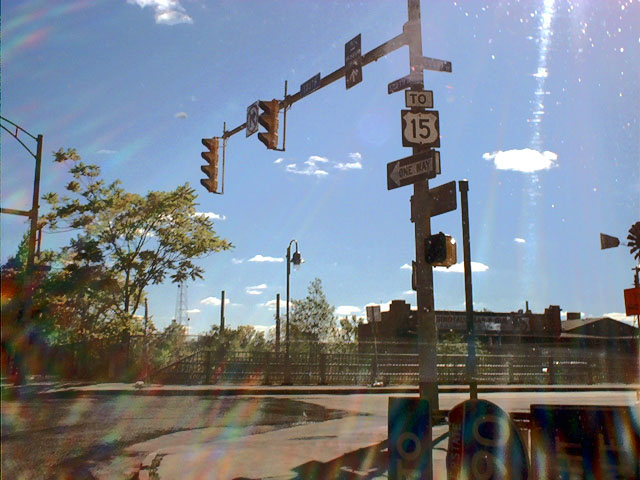 The last remianing US 15 shield in Rochester is posted at South Avenue and Court Street. South Avenue carries NY 31 eastbound for one block south of this point, then turns onto Woodbury Boulevard at the northern terminus of NY 15 southbound. Although US 15 north of Painted Post was downgraded to NY 15 in the 1970's, this assembly can still be considered correct, if rather extreme, since NY 15 directly connects to US 15 some 90 miles to the south.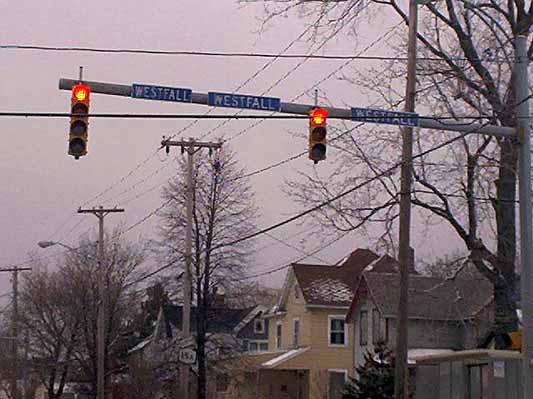 Northbound on East Henrietta Road (NY 15A) at Westfall Road is this unusual arrangement. In the City of Rochester, street names are routinely marked on overhead traffic signal mastarms. At this particular location, however, there had for some time been placed three different signs for Westfall Road. They used different typefaces and capitalization, and may have been a signage test of some kind (the Iola Campus of county offices, including highway maintenance facilities, is located at this intersection). More recently, three almost identical signs (above) were mounted here, perhaps as a test of far more subtle design aspects. Today, a single design has finally been selected.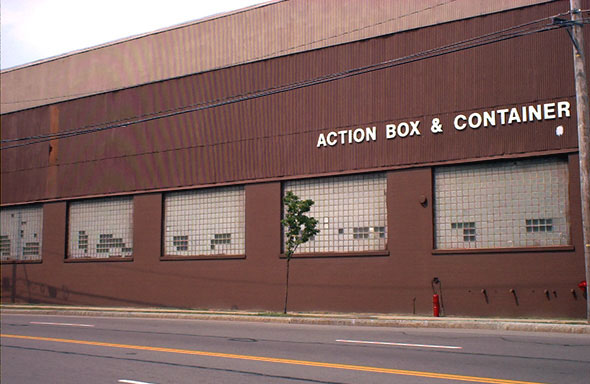 Quite possibly the most dynamic façade in all of Monroe County, this edifice is located on University Avenue in Rochester. Its vitality is enhanced by the addition of the bright red fire standpipe and the forlorn demi-tree on the adjoining sidewalk. A more oblique photo angle truly brings out the action in this box factory. Of recent interest, this building has since been repainted.