(click to enlarge)
US 6 climbs the flank of the Hudson Highlands on its way between the Orange County farmlands and the Bear Mountain Bridge. Here, the highway sweeps into the valley near the Village of Harriman.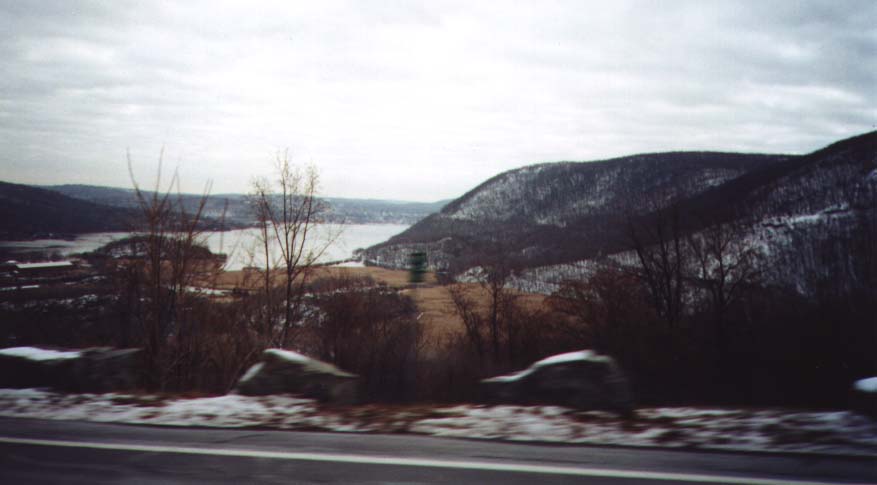 (click to enlarge)
The northernmost stretch of the Palisades Interstate Parkway also carries the US 6 designation. This winter scene looks north from the highway as it swings around Bear Mountain in the state park of the same name.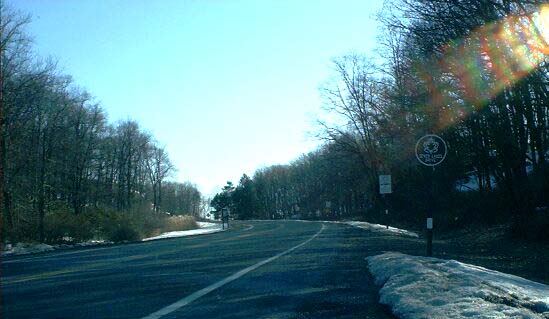 Most of the roads within Harriman State Park use the Palisades Interstate Park Commission marker shown here. This is a view of the Seven Lakes Parkway (or Drive), looking south from Kanawauke Circle. CR 106 (below) runs east and west from this circle, named for an adjacent lake.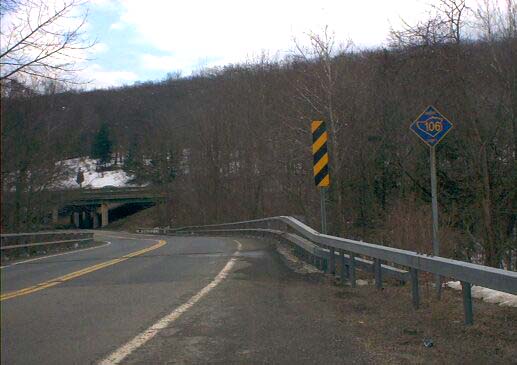 At the opposite side of Harriman State Park, an Orange County route marker is posted for CR 106. The overpass in the distance carries the New York State Thruway, while the bridge in the foreground spans the Norfolk Southern tracks that also carry Metro North commuter trains bound for Port Jervis. CR 106, which continues into Rockland County, was once an eastern extension of NY 210. Today, it continues the path of NY 17A, which ends just behind us at an interchange with NY 17.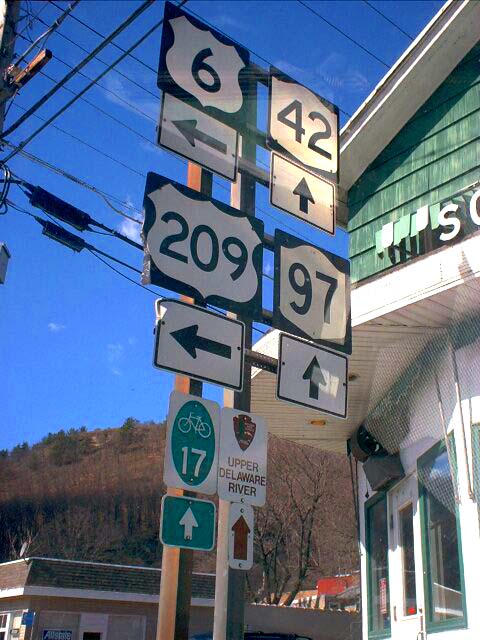 (click to enlarge)
This sign assembly marks the southern terminus of NY 97 and NY 42. It is posted on US 6 at the junction with US 209 in Port Jervis: from here, the two routes overlap, crossing the Delaware River to Milford, Pennsylvania. Also posted are a marker for bicycle route 17, which follows the length of NY 97, and a National Park Service trailblazer for the Upper Delaware National Scenic and Recreational River.