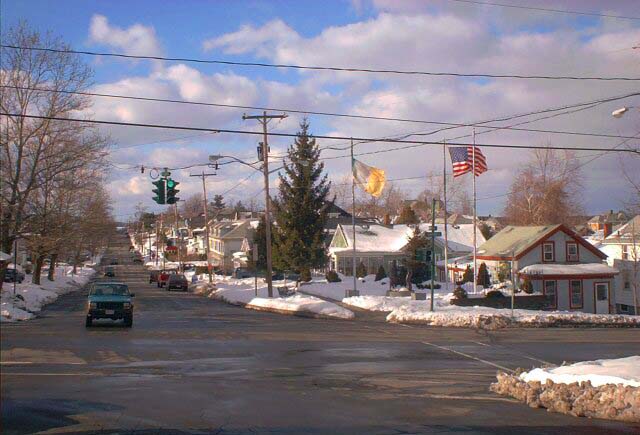 In the predominantly Irish neighborhood in Syracuse called Tipperary Hill, a source of great pride is this traffic signal with the green aspect on top. This view looks down Milton Avenue at the corner of Tompkins Street. Between the Irish and American flags on the far corner is a bronze statue of an Irish working-class family. The father makes a grand, sweeping gesture, as if describing the splendor of the Emerald Isle to his wide-eyed children, although he happens to be pointing towards the traffic signal.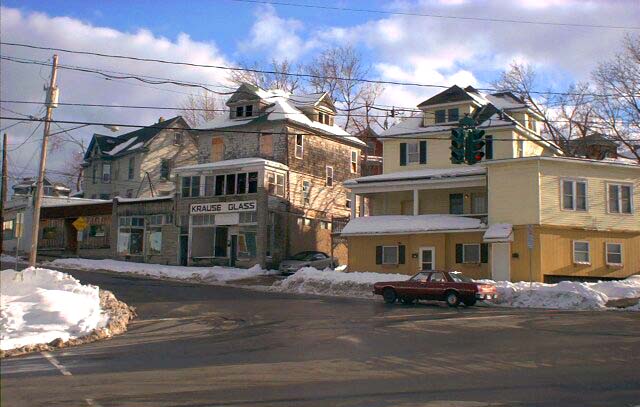 As we face the opposite direction, Burnet Park Drive continues the path of Milton Avenue up the hill towards Burnet Park and its zoo. Of course, if the signal's top aspect is green, the bottom one must be red, as shown here. The signal does not comply with MUTCD standards, and presents a great hazard to persons with red-green color blindness, who rely on the position of the lit signal aspect, rather than its color. However, attempts to correct this signal have been met with intense community opposition. Krause Glass, in the background, is severely in need of its own product; most of its window panes are missing.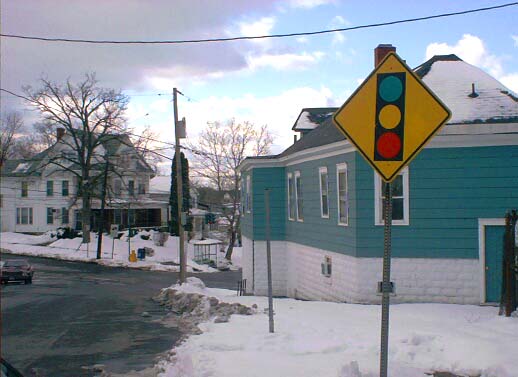 Even an advance warning sign on the downhill approach reflects the signal's peculiar arrangement. A similar motif appears in a storefront window across the street. The effect of this sign is subtle, but that of the signal itself is much more striking in person than in photographs. Here, the signal's red aspect is barely visible in the background, partially obscured by JPEG compression algorithms.
Follow this link for more photos of Tipperary Hill and its traffic signal.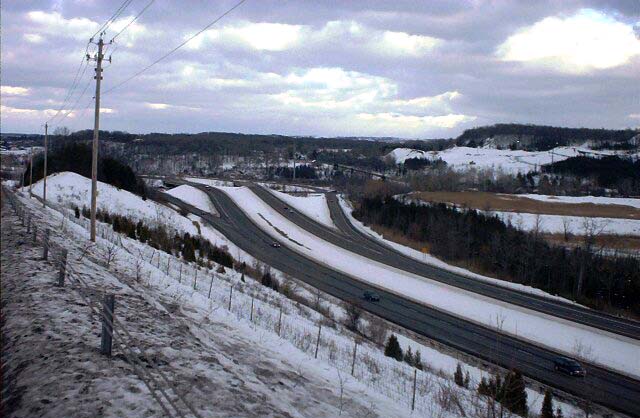 Southwest of Syracuse, in the Town of De Witt, Nottingham Road overlooks Interstate 481 as it passes through Ram's Gulch. Wide shoulders allow the motorist to pull off and enjoy this view of Exit 2 (Jamesville Road) on Interstate 481. In the background, at right, part of the works of the huge Jamesville Quarry is visible.