TIOGA COUNTY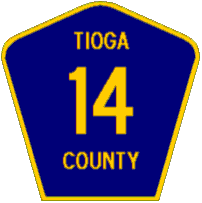 COUNTY ROADS
---
Tioga County posts a system of touring routes, using the standard pantagon shield shown above, with the numbers given in the "CR#" column below. Even numbers are east-west, and odd numbers are north-south; the numbers increase roughly from west to east across the County. Tioga County highways are also assigned section numbers, listed in the "CH#" column below. These are 3-digit numbers, with the first digit indicating the Town, as follows: 1) Barton, 2) Berkshire, 3) Candor, 4) Newark Valley, 5) Nichols, 6) Owego, 7) Richford, 8) Spencer, and 9) Tioga. The second and third digits remain the same throughout the length of each named road segment, which in turn usually corresponds to a single county touring route.
Tioga County's highway system is quite limited, comprising only the most important local through routes. By far, the majority of roads in Tioga County are town roads.
In the "Towns" column, Villages are also listed, although no county highway wholly enters any Village.

---
CR#
CH#
NAME
FROM
TO
TOWNS
NOTES
1
803
Michigan Hollow Road
NY 34/NY 96, North Spencer
Tompkins Co. line
Spencer
Continues as Tompkins CR 187
2
105
905
Hamilton Valley Road
Poole Road & Stone Quarry Road
CR 7/CH 901, Halsey Valley
Barton, Tioga
3
102
802
Dean Creek Road
NY 34, N of Lockwood
CR 18/CH 806, W of Spencer
Barton, Spencer
4
501
West River Drive
Pennsylvania state line
NY 282, W of Nichols
Nichols
Continues as PA SR 1043
5
804
Crumtown Road
NY 96, E of Spencer
Tompkins Co. line
Spencer
Continues as Tompkins CR 125
6
502
East River Drive
Nichols vill. line
Dead end at NY 17
Nichols
Old NY 283
7
901
101
801
Halsey Valley Road
NY 17C, Tioga Center
NY 96, E of Spencer
Tioga, Barton, Spencer
8
203
Glen Road
CR 33/CH 208, N of Speedsville
NY 38, Berkshire
Berkshire
9
103
903
Ellis Creek Road
NY 17C, Ellistown
CR 7/CH 901, S of Halsey Valley
Barton, Tioga
10
202
East Berkshire Road
NY 38, Berkshire
CR 37/CH 201, East Berkshire
Berkshire
107
108
Broad Street Extension
North Ellistown Road
Waverly vill. line
NY 17C, East Waverly
Barton, Waverly line
11
104
904
Oak Hill Road
Barton Road, Barton
CR 9, CH 103 & CH 903
Barton, Tioga
14
605
Day Hollow Road
NY 17C, E of Owego
Broome Co. line
Owego
Continues as Broome CR 60
15
301
Coddington Road
NY 96B, Willseyville
Tompkins Co. line
Candor
Part is old NY 96B
Continues as Tompkins CR 119
304
NY 96B, Willseyville
CR 15/CH 301, Willseyville
Old NY 96B
17
305
Honeypot Road
NY 96B & SR 960H, N of Candor
Becomes town road, c. 0.1 mi. S of Blinn Road
Candor
18
806
Sabin Road
Chemung Co. line
Spencer vill. line
Spencer
Continues as Chemung CR 46
20
606
Taylor Road
Bodle Hill Road
Owego vill. line
CR 14/CH 605, E of Lincolnshire
Owego
21
902
302
Straits Corners Road
CR 7/CH 901
NY 96, W of Candor
Tioga, Candor
23
906
Glen Mary Road
NY 17C, W of Owego
NY 96, S of Catatonk
Tioga
25
603
503
Sulphur Springs Road
Sibley Road
Owego vill. line
Owego, Nichols
27
610
Montrose Turnpike
Pennsylvania state line
Owego vill. line
Owego
Continues as PA SR 1059
29
702
Harford Road
Tompkins Co. line
Tompkins Co. line
Richford
Continues N and S as Tompkins CR 117
33
608
408
308
208
708
West Creek Road
NY 38, Flemingsville
NY 79, W of Richford
Owego, Newark Valley, Candor, Berkshire, Richford
Enters Tompkins Co. as CR 115, Speedsville
37
401
201
Wilson Creek Road
NY 38, N of Newark Valley
CR 10/CH 202, East Berkshire
Newark Valley, Berkshire
39
607
Gaskill Road
CR 14/CH 605, E of Lincolnshire
NY 38, N of Flemingsville
Owego
41
601
Pennsylvania Avenue
Pennsylvania state line
NY 434, Apalachin
Owego
Continues as PA 858
43
907
Goodrich Road
NY 17C, W of Owego
CR 23/CH 906, Goodrich
Tioga
54
509
Stanton Hill Road
CR 6/CH 502, Lounsberry
CR 25/CH 503, S of Owego
Nichols
60
106
Chemung Street
Chemung Co. line
Waverly vill. line
Barton
Continues as Chemung CR 60
Old NY 17
65
609
Corporate Drive
NY 38, N of Owego
Dead end at O&H Rwy.
Owego
SOURCES: Tioga County official highway map (The National Survey-1998), NYSDOT Tioga County map (1995), NYSDOT New York State Atlas (1998).
Edition 12/13/MM
---